TIFFANYS 45TH ANNIVERSARY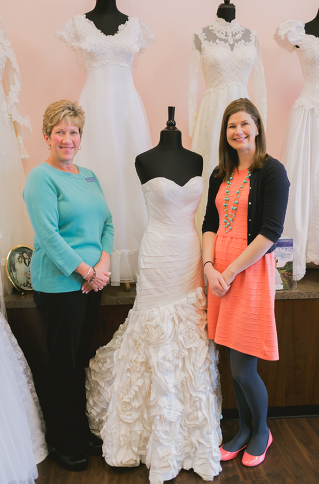 I see it every day as I walk into the boutique: a mannequin adorned with an off-white lace homage to the 1970s bridal gown. The poet sleeves, high neck, empire waist, and ruffle hem all date it, but I still love it.
I'm Sharon Townsend, the owner, and manager of Tiffanys Bridal, and I purchased that gown from Tiffanys in 1974, long before I ever dreamed I'd own the store.
It's now part of a vintage gown display we erected in honor of Tiffanys' 45th anniversary. People have actually asked to try on my gown since we put it on display, so I guess everything comes back in style eventually!
More often I hear comments from a bride's mom about how she wore a similar gown. If she's from Richmond, the mom making the comment usually purchased her gown from Tiffanys, because we are Richmond's oldest bridal store.
Tiffanys began just as much a family business as it is today; Peggy's mother, the late Ruby Barnes, trained Gary's mother, Marinel Wright so that she could manage branches of the store.