The GirlZ, a Celebration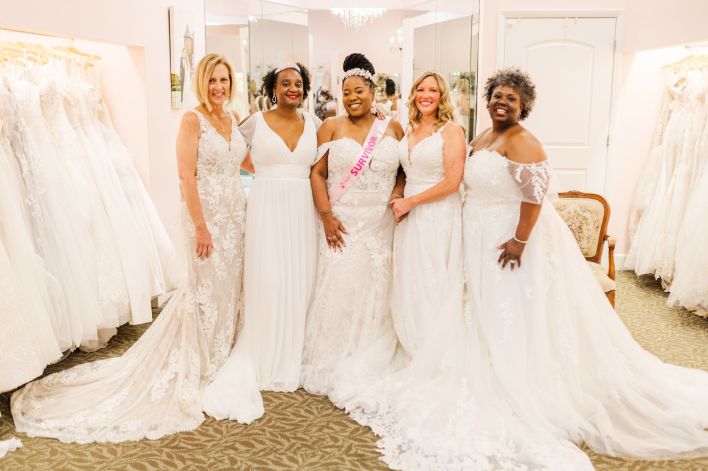 The Girlz: Inspiration with a touch of Glam!
Celebrating A New Year, Celebrating Women, Celebrating Life!
Vanessa Spurlock took a gamble one day and called Tiffanys Bridal. Becki, our office manager, answered the phone and Vanessa asked her an unusual question.
"She wanted to know if we let people borrow our gowns," Becki said. "Typically that's not something we do, but I asked her to explain a bit more because something told me there was more to this request. I'm so glad I did. It was a message from above that we needed to do this."
It turned out Vanessa was asking on behalf of a special group of cancer survivors who wanted to obtain beautiful gowns for holiday photos. Becki consulted owner/manager Sharon, and it was a no-brainer. Very quickly plans were made for what would turn out to be an unforgettable photo shoot thanks to Rachael of Rachael Mattio Photography, who graciously volunteered at the last-minute to capture it all.
"We wanted a way to celebrate us! To show that even in the midst of all of our changes — mentally, physically and emotionally — that we are still beautiful," Vanessa said. "Becki, Sharon and the Tiffanys staff have shown us that we are not limited to how the world says we should look and there is something at Tiffanys for everyone in all shapes and sizes."
Vanessa and her friends, Shannon Beasley, Kisha Morgan and Tonya Campbell are all breast cancer survivors. Shannon is a two-time survivor (first diagnosed with cervical cancer) and Tonya is BRCA+ and now knows the breast cancer gene mutation is also carried by her aunt, sister, and niece.